Discussion Starter
·
#1
·
Mark: 2004 vw GTI 1.8T
Objective: Make a 500 hp DD on a switch.
Or at least a 350-400 HP DD ....on a switch.
I am tossing the idea of
A), the 2190CC Stroke out
ALH TDI block(from a tdi vehicle)
100mm Eurospec Forged Crankshaft with correct Oil Pump gear to utilise the stock 1.8T oil pump
carrillo 159mm/21mm Forged Connecting Rods
83.5mm Forged Pistons w/ 9.5:1 nominal Compression Ratio
ARP 12mm Head studs to allow the use of a 20V head on an ALH block
Plus software and a gt3071 turbo, possibly water-meth injection and a FMIC.
Im looking at around 5-6.5k if i source the parts myself, and TDI parts are easy enough to get from people i know.
B) 2008cc stroker kit
92.8mm Forged 2.0 FSI Forged Crankshaft with correct Oil Pump gear to utilise the stock 1.8T oil pump
Carrillo 144mm/20mm Forged Connecting Rods
83mm Forged Pistons w/ 8.9:1 nominal Compression Ratio
ARP headstuds.
big turbo, fmic, watermeth, software
about 3-3.5 grand
C)
Ghetto stroke it to a 2.0(barely for 1000 and pop a smaller 2871R on with an intercooler for a K more, tune is required, prolly APR).
Im going to upgrade the brakes to something a bit beefier(prolly do this before any engine mods).
Full suspension, upgraded axles, and other things of that nature.
GHL exhaust(3 inch on a and b, 2.5 on c), downpipe, no resonator.....this things gonna make me deaf.
The looks:
(prolly after i pay it off)
Exterior:
Bmw M3 split 10 spokes with 20 MM spacers and rolled fenders.
Im still tossing paint ideas around though :\, dunnp what to do.
Im thinking a red and black two tone, top half will be black bottom half will be a deep gloss red(lambo red is smexy).
Jetta front end swap
De-badge
Interior(MAYBE):
Black or White Porsche leather with red trim around the seats and the interior(dark and foreboding or medical candy???? hmmmm)
Hide-able Blue racer gauges molded into dash, cause they match stock
Im going to install a lockout switch(with a key) into it, so when i flip it off, near stock DD car, turn it on, street cleaner, all the dash gauges will turn on so you can see them.
But none of the body or look good mods will be done until the motor is running fast, save the jetta front swap and the bmw rims, cause i like em.
So what do you think?
Is my death wish good enough to pursue?
I think it might be....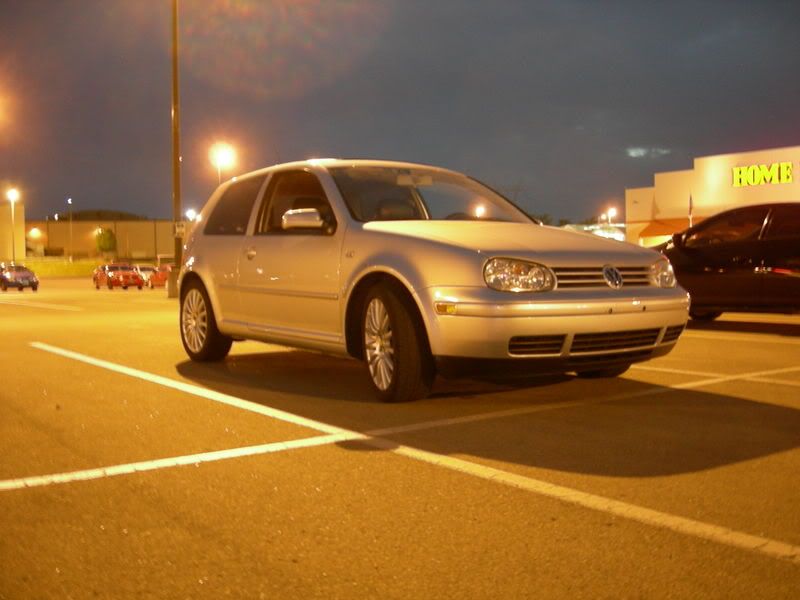 Photochop of my proposed design soon.